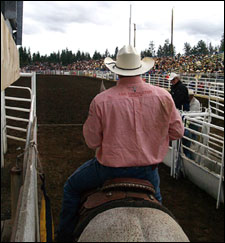 Independently, thousands of rodeo committees across the US and Canada work diligently to mold their events into a successful celebration of our western heritage.
Almost every rodeo is self-sustained, working independently to make their event a success for both the participants and their local community. Although sanctioning bodies have been able to address many of the competition needs for the participants, they have been unable to collectively address the financial needs of the rodeo committees. Until now, it's been the responsibility of each rodeo to develop their own methods of meeting their own financial needs.
Historically, the vast majority of these isolated rodeo committees, working alone, have not had the resources or stature to attract national sponsors or negotiate contracts from a position of strength. In fact, many of these rodeo committees have found it difficult to even connect with or learn from the experience of others rodeos just like themselves.
Rodeo Insider is an online community for Rodeos, Contract Personnel, Sponsors, Vendors, Western Lifestyle Events, and Rodeo Insiders.
Our goal is to provide a place for:
• exchanging ideas
• finding answers
• attracting and acquiring sponsors
• obtaining discounts on products your rodeo uses
• finding, connecting with, and purchasing the services of contract personnel and vendors
Does your rodeo want the best in television, radio and print ads but hasn't been able to afford them?
Until now, producing high quality media to promote your event has been cost prohibitive. In our Media Section you'll find cost effective ways to obtain high impact media without your rodeo having to bear the entire production cost alone.
Seeking new sponsors? You're not alone anymore!
The absence of a single common entity to organize, standardize and represent rodeo to the media and to prospective sponsors has made it impractical and virtually impossible for national sponsors to become involved. With Rodeo Insider working as one common voice, rodeos across the country can collectively offer their properties to large national sponsors. Go to the Sponsorship Section for detailed information on how your rodeo can benefit from Insider Sponsorship Opportunities.

Do you have a great idea that has helped improve your rodeo and would like to share it with others?
There are literally thousands of rodeos with great ideas. Now your idea can impact the entire industry. Our Learning Center enables you to tap into the vast knowledge and experience this industry has to offer. Insider will soon become your primary source for sharing and obtaining ideas from rodeos across the country.
Ever wish there was a "Buyers Club" for Rodeo supplies and services?
Now Rodeo Insider's bulk buying power makes big buyer pricing available to every rodeo. In Rodeo Insiders Marketplace you'll find the things you need at prices you've never enjoyed before!
Finding the right contract personnel can make a significant difference in your event.
The Guide is the shopping mall for contract personnel. The Insider Guide enables your rodeo to preview and contact Announcers, Contract Acts, Clowns, Barrelmen, and support personnel.
Know what's going on!
The Insider News section of Rodeo Insider gives you honest reporting of important events and developments that impact our industry and more.
Rodeo Insider Will Enable Your Rodeo To Stand Apart - Not alone!