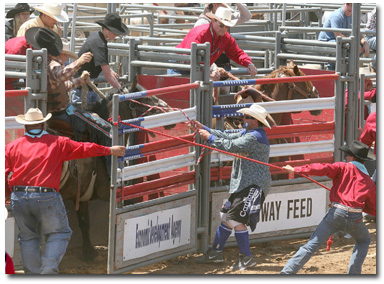 Have you ever wished there was online shopping mall for event personnel and industry consultants? Well now there is!
Finding the right contract personnel can make a significant difference in your event.
The Guide is the shopping mall for contract personnel and industry consultants. The Insider Guide enables your rodeo to preview and contact Announcers, Contract Acts, Clowns, Barrelmen, Support Personnel, and industry consultants. Unlike a static printed listing of contract personnel the Rodeo Insider Guide is a dynamic catalogue that offers much more.
In the Rodeo Insider resource Guide you will be able to;

Access accurate, real time contact information
Watch a multi media video of a speciality act, bullfighter or clown in action, or the latest pyrotechnics display in action.
Listen to a sample of a prospective announcer or an entertainer
Review their schedule
Read their online promotional brochure
Contact them via email
The Rodeo Insider Resource Guide contains more than just "traditional" contract personnel, it provides Insider Members with full access to a host of top notch industry consultants. These seasoned professionals can show you how to save you thousands of dollars in production costs, help take your event to the next level, and show you how to create a whole new level of enthusiasm and commitment in your rodeo committee. Whether you need help with the basics, a revolutionary new idea, or anything in between, The Rodeo Insider Guide enables you to connect with a professional consultant that can help guide you event towards a prosperous new future.

Are you a rodeo professional?
Do you provide professional consulting services to the industry?
Would you like to be included in The Guide?
For our initial Launch Celebration We're offering you a FREE LISTING in the Rodeo Insider Guide.
And... You'll have the opportunity to upgrade your listings to include video, audio and much more!